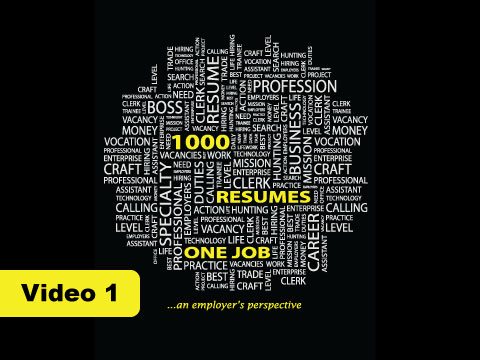 The video series, 1000 Resumes – One Job offers you powerful insights how hiring managers think from the very beginning all the way throughout the interview process, checking references and the job offer. You will learn how to take a personal inventory of your skills and present them in a way employers will understand the value you bring to their company.
You will learn the three important components to impress hiring managers. You'll learn how to set SMART goals, organize your social networking skills and understand how your e-mail address can keep you from getting hired.
You'll learn how to set strategies and ways to demonstrate and convey your transferable skills proving you are an important asset to the company.
1000 Resumes, One Job covers the tactical approach of the job search including assembling your resume, creating prospectus letters, cover letters, responding to internet ads, script writing and cold calling, telephone and interview tips, preparing yourself for the interview including how to explain gaps in your career. Also included is an extensive list of frequently asked questions and how to respond to them.
You will learn how to get interviewed and hired even without a job opening.
This series of videos can be found on YouTube at https://www.youtube.com/c/Mediamediainc or by clicking on Jobs in the menu bar.